About Frier Vest
At Frier Vest in the Grenland region of southern Norway, a major industrial park is under development to provide business locations for sustainable green industries.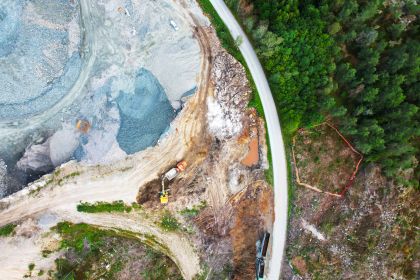 What is Frier Vest?
The Frier Vest site covers 700 hectares in the heart of the Grenland industrial region. The area is under development as a centre for green industries. There are few if any alternative sites of similar size, and with such close and easy access to port facilities and shipping routes, in the vicinity of the Oslofjord.
The first phase of the project is a full-service industrial park covering 320 hectares, of which 40 hectares was zoned for industrial use in the spring of 2021. A state-of-the-art, publicly owned port facility is under development here. Work is under way on the zoning plan for a further 370 hectares, which is expected to be ready by May 2022.
As well as large sites, Frier Vest will offer access to industrial infrastructure such as supplies of coolant, process water and renewable electric power. The region's ports offer established shipping links to the Netherlands, Belgium, Germany, the UK, Sweden and Denmark. The E18 highway is just a short drive away.
The Grenland region is home to about 100,000 people and boasts high levels of industrial expertise. The University of South-Eastern Norway and various private businesses are very active in the research field.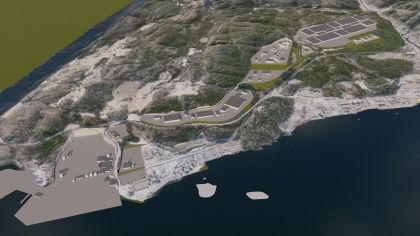 Our plans
Tomorrow's industrial park
Our goal is to develop an industrial park housing a diverse range of manufacturing businesses that can benefit from one another's resources. By reusing emissions and sidestreams, we can make better use of resources, add value, and improve sustainability. We are actively encouraging businesses that can contribute to the circular manufacturing economy to locate at Frier Vest. 
A port for the future
When fully developed, the port facility will cover a large area, with several hundred metres of quayside and a quayside depth of 15 metres, allowing all cargo types to be handled efficiently. The port facility will be publicly owned to ensure equal access for all users. Development of the port is already under way and will continue in stages, as businesses locate to Frier Vest.
Sustainable industrial development
Frier Vest shares the objective of the region's business community to develop the world's first climate-positive industrial region. Expertise and thorough planning are key factors in our drive to build a new, sustainable industrial park.
Where alternatives exist, Frier Vest will always choose the most environmentally friendly solution.
The company behind Frier Vest
Frier Vest Holding AS is owned by Grenland Havn IKS (70%) and Bamble municipality (30%). Grenland Havn IKS is an intermunicipal company that owns and operates the Port of Grenland. We aim to enhance Grenland's position as one of Norway's major ports by proactively accommodating the needs of businesses in the region and embracing sustainable transport solutions. We're committed to the Frier Vest project in order to ensure new sites are available for industry. Frier Vest is a key project for promoting economic development in Bamble district.
Timeline for the Frier Vest development
.
March 2023
Agreement with Hydro Rein is signed.
October 2022
Statkraft, Europe's largest renewable energy producer and a global company in energy market operations, and Frier Vest have signed a MoU to develop and market what will be Norway's largest seaside industrial area - Frier Vest.
June 2022
The detailed zoning plan for "Frier Tråk vest for FV 353" was approved, except the area BN2 which will be subject for mediation with the County Governor for Vestfold and Telemark.
February 2022
Construction work started in the area where a new port will be established. Port of Grenland is responsible for the development of a new port.
January 2022
Frier Vest buys 200 hectares of land.
December 2021
Bamble municipality invests in Frier Vest Holding AS. The company is now owned 30% by Bamble municipality and 70% by Port of Grenland.
November 2021
The parties in the "Joint Battery Initiative" have decided to end their feasibility study. Site selection process in Norway and EU ended.
October 2021
Shipment of stone from Frier Vest begins.
August 2021
The Joint Battery Initiative considers setting up a battery cell manufacturing plant in Norway, with Frier Vest one of four possible locations.
March 2021
Work begins on a detailed zoning plan for the site west of county road 353, an area of 370 hectares.
February 2021
Bamble council approves the Frier Vest zoning plan covering 320 hectares.
November 2020
The company Frier Vest Holding AS is formed.
March 2018
Grenland Havn IKS begins buying up land for the Frier Vest industrial park.
January 2008
The idea of Frier Vest as the future location of an industrial park is born.
700 hectares of industrial land under development, with 320 hectares already zoned.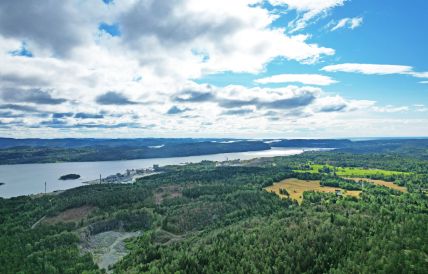 Sign up for email updates on developments at Frier Vest